Over the past twelve months remote working has become more of a necessity rather than a choice and as we hopefully start to return back to some sort of normality, a lot of companies are starting to make more considered decisions on where and how their workforce should operate from.
From speaking with several IT leaders across a wide variety of industries, it's becoming more and more apparent that remote working it here to stay. With this shift to remote based working rather than being centrally located in an office, the question of security, compliance and Endpoint management is more important than ever. It's vital that businesses have a remote access strategy in place to ensure that that company information is always kept secure.
In previous blog posts we've talked about Microsoft Endpoint Manager and how this can be used to secure and manage remote devices across the company estate. This week we are looking at it from a slightly different angle. Rather than having devices where information, applications and indeed the desktop is locally held on the device – why not have all of that held securely in one location, with the device simply being an access point.
Enter Azure Virtual Desktop
Azure Virtual Desktop (AVD) is an Azure-based cloud desktop as a service (DaaS) solution for desktop and application virtualization. Using Azure Virtual Desktop, companies can deploy virtual Windows desktop environments and application access for individual employees.
Using desktop virtualisation, the Windows 10 operating system does not directly run on the client device that the user accesses it from; rather, it is hosted in Microsoft Azure. A user will have their regular personal applications and company applications deployed to their virtual environment.
Users can access the client software for Azure Virtual Desktop through a variety of device types such as Windows, macOS, iOS, Android and HTML5-enabled web browser. Once logged in, the user experience is the same as if their desktop or applications were locally based on the device.
AVD also offers a massive benefit from a security point of view as data and applications are separated from local hardware and are run on a remote server. This reduces the risk of important company data being left on a personal device. It also isolates user sessions in both single and multi-session environments. This provides better security than a VPN because it doesn't give users access to a full subnet.
Because it runs in Azure, AVD uses industry leading security and compliance policies to protect user data. AVD can work effectively with Microsoft Endpoint Manager. This helps protect your infrastructure, with Azure Active Directory allowing you to enable conditional access policies and role-based access control (as shown in the diagram Circle Cloud produced below)...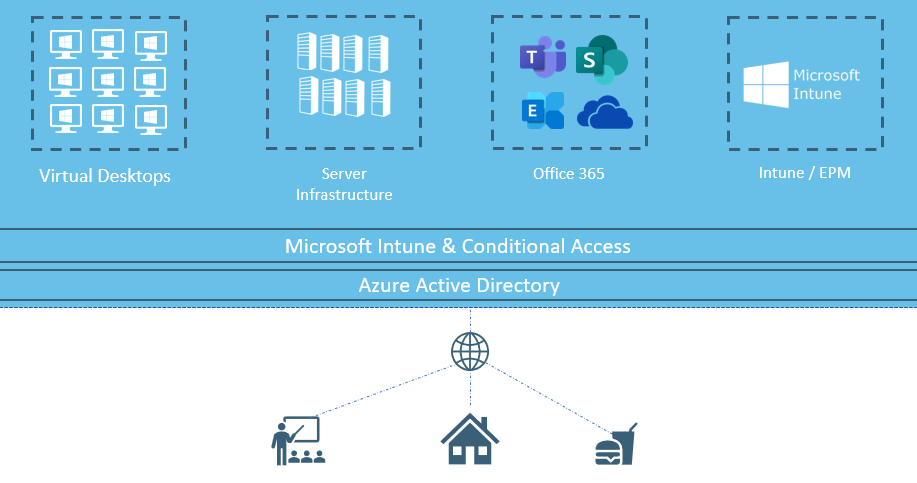 Azure Virtual Desktop manages the entire virtual desktop infrastructure, so your IT Team can focus on the user, apps and operating system images needed rather than worrying about local device management.
Since it's in the Cloud, AVD is fully scalable to suit your business needs. It can provide tools to automatically provision additional VMs when an incoming demand exceeds a specified threshold.
You'll get access to other monitoring services, such as Azure Monitor, which allows admins to identify issues and get alerted through a single interface; and Azure Service Health, which provides personalised guidance to help mitigate downtime and prepare for planned maintenance.
AVD can also help to keep infrastructure costs down. Regularly upgrading your Endpoint infrastructure can be expensive. But with a Azure Virtual Desktop environment, you can reduce spend on infrastructure by making the most of its cloud capabilities – where you only need to pay for what you use.
With the multi session capability of Windows 10 you can have multiple users connected at the same time to maximise your virtual machine utilisation. It offers flexibility so you can have the virtual machine like and tweak it to suit your business needs.
Azure Virtual Desktop offers several great benefits to your business such as allowing for more secure remote working for your end users, quicker deployment and simplified it management, with reduced licencing and infrastructure costs.
If you're interested in knowing a little more about Azure Virtual Desktop on a technical level, you can check out our recent webinar by Clicking Here.