Introduction to the Series
There has been a big shift towards the IT Managed Services model in recent years. One of the main reasons is because Managed Services are designed to be proactive, leading to more stable IT environments.
But what does a 'good' Managed Service offering look like? I've put this blog series together to help business leaders answer this question.
There are fundamentals to look out for in a good Managed Service package, and I will be dedicating a blog post to each of them. This week, I will be looking at effective service desks.
Effective Service Desks Introduction
A lot of business leaders think that remote management will take away the human touch. It's true that Managed Services ensure a lot of the hard work is done before you feel the pinch, so there is definitely much less need for engineers on site.
However, even though Managed Services are designed to be proactive, there are still times when your organisation's IT users experience problems. This is where speaking to somebody can be helpful, but there needs to be clearly defined ways of raising issues with your provider's service desk.
Let's look more closely at the fundamentals of a good service desk.
Multiple ways to Log Tickets
Everybody works differently, so there should be multiple ways for your staff to log tickets with your Managed Service Provider. To use Circle Cloud's Managed Service as an example, we offer 3 methods of logging, which are…
Telephone- In a world where it's now common to interact with automated attendants and website bots, there are still lots of us who prefer speaking to real people. This is where a helpdesk number comes in useful. Generally, your calls will be dealt with by a First Line Support member of staff, who might not have the experience to deal with difficult technical issues. However, because Circle Cloud's Managed Services are defined specifically around the Microsoft 365 and Azure stack, we are able to train our First Line support staff to a level where we can often deliver a first time resolution over the phone.
Email- Email is familiar to most people these days, and therefore logging a ticket this way can be slotted into your workstream quite easily. A good Managed Service Provider should have a dedicated email address where you can direct all requests. When you send your email, you should also receive an automated response acknowledging receipt of your ticket, along with a ticket reference number.
Ticketing Portal- If you're not familiar with ticketing portals, they are online tools that you access via the internet. They allow you to log tickets directly with your Managed Service Provider. Here is a screenshot of Circle Cloud's to give you an idea: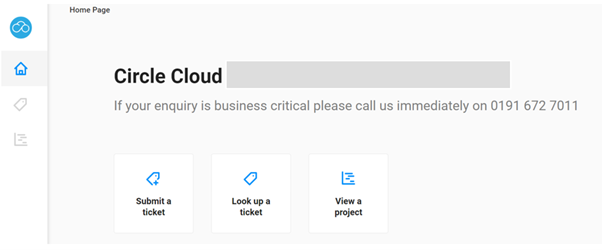 The real benefit of a ticketing portal is that there is usually a form on there with pre-set fields for you to complete. These forms are designed to capture the specific information your MSP needs to deal with an issue quickly. Submitting a ticket this way can therefore reduce back and forth, ultimately leading to a quicker resolution.
Internal Processes to Deal with Tickets
Regardless of how you log a ticket, your MSP should have consistent and effective processes to deal with your issues. I have outlined some of the things that should be in place in your MSP's Service Definitions.
Prioritisation- Not all issues are created equal. For example, a complete loss of a business-critical application should be treated with more urgency that an individual member of staff that is having trouble with the printer. This is where a clear prioritisation matrix needs to be defined. To give you an example, here is Circle Cloud's…

To explain the above, the ticket priorities are Critical, High, Medium and Low. Deciding what priority a ticket is depends where it sits in the above matrix. But you might be thinking, what is the difference, for example, between High Impact and Low Impact? Well, these terms should be defined in your provider's Service Definitions as well. I have provided an example from Circle Cloud's Managed Service definitions to help:
High Impact: Whole Company is affected
Low Impact: One User or a small number of users are affected (up to 7 or relative to company size)
Response and Resolution Times- Response and Resolution times should be clearly defined in your provider's Service Definitions and should directly reference 'urgency' (see above). To help, I have provided an example of Circle Cloud's standard response times, taken from our own Managed Service Definitions…

A final point on this is that these times should be measured as part of your Service Level Agreement (SLA) with your Managed Service Provider. Your MSP should be able to tell you how many tickets have been logged, and how many have not met the agreed times (I will cover this in more detail in my blog post on 'Reporting').
Secure Remote Control Tools
To offer quality remote support, your Managed Service Provider should have a secure remote control tool in place. A remote control tool gives the IT engineer the ability to take control of a user's device so that they can provide immediate troubleshooting and support. Of course, this does pose security challenges, so it's important that the tool is secure. To use Circle Cloud as an example, our tool asks a user for consent before connecting an engineer to their machine. Additionally, it is protected by 2 Factor Authentication.
What's Next
If you missed my last blog post in this series (the introduction), click here to check it out.
If you're interested in finding out more about what Circle Cloud's Managed Service offerings look like, get in touch. One of our friendly staff will talk you through it over the phone.
Now that we've covered some of the hands-on stuff, next time I'll take a look at what goes on in the background by focussing on Monitoring and Management. This is the thing that truly sets IT Managed Services apart from IT Support.