We're returning to Microsoft Teams Phone System for this week's blog entry and a look at some of the additional features that companies demand from their voice infrastructure.
This week we're going to talk you through Circle Cloud's solution to Call Reporting and Call Recording in Microsoft Teams Voice.
Call Recording…
Both Call Reporting and Recording are a staple of many business's telephony setup - whether for training, compliance or legal reasons there, is often a need for a call to be recorded.
Circle Cloud, as part of its Managed Teams Calling solution is now able to offer the option of full call recording. The solution uses a fully managed third-party client to offer a seamless and fully featured recording and management suite. All calling types can be captured including inbound / outbound, internal calls, peer-to-peer, and conference calls.
Circle Cloud's Teams call recording uses the Microsoft Voice Recording Graph API and activates a BOT once the call is confirmed. When the call is completed, the recording is transferred to a server, fully encrypted.
Key features of the Circle Cloud call recording solution include:
Play back calls or download for review or sharing
Pause and resume recording when taking financial transactions (PCI compliant)
'Silent monitoring' of active calls for team leaders
Know which employees need extra training
Easier to resolve disputes and protect employees from abuse
Intuitive browser-based interface with easy search and identification of calls
Recorded calls never leave your environment, avoiding issues of data governance and privacy
You specify the retention period of recorded calls avoiding unnecessary and costly storage
Security of recording is also vitally important. All recordings are held within your own company environment (the recording application is installed on your existing Microsoft Azure tenant) which allows for ownership of data sovereignty and retention periods on stored recordings. All recordings are only accessible via the recording admin dashboard. Access to the admin recording portal can be fully controlled at administrator level and can also be controlled via MS365 Single Sign-On and Conditional Access.
Call Reporting…
Companies use call reporting for a variety of reasons, whether it be to monitor and manage incoming call traffic, monitoring call usage from staff or to use stats to create trend and KPI analysis. Having an overview of call traffic and statistics is still a vitally important feature of a company's voice platform.
In these current times, where staff are becoming more home/remote based rather than working out of a central office, the desire from management and department heads to understand productivity levels and calling trends is higher than ever. There is also a need to make sure that clients calling into the business are still receiving the same (hopefully high) user experience than if calling an office.
As with call recording, Microsoft Teams Phone System doesn't currently offer a full Call Reporting suite as part of its core feature set (yet!) except for user level call history within the Teams application. Luckily, as with Call Recording, Circle Cloud is now able to offer a full Call Reporting suite designed from the ground up to give Microsoft Teams Phone System a full and flexible call reporting, analytics and analysis platform.
Using a secure web-based platform which can be managed via 365 Secure Sign and Conditional Access, users can view their own calling stats and history (if required) and admin and management users can view all stats at both a user, department and company level through a single platform (see below):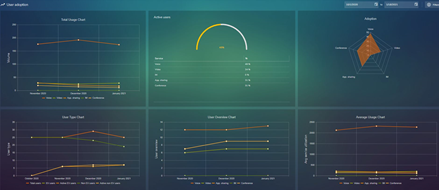 This dashboard screen can be configured to suit the specific users' requirements via a series of on-screen widgets. Call stats (both in/outbound and internal) can be monitored, logged and analysed using a series of predefined KPI parameters – useful for tracking call trends or user calling patterns.
Managers or department heads are also able to view users' stats side by side to help compare work trends and assist with internal training and learning. The reporting platform also provides full options for automatic scheduling of reports covering a wide of parameters.
Although not designed to be a full call centre environment, the Microsoft Teams call reporting suite can be used as a pseudo inbound call monitoring system, either as an office wallboard or user screen. This is ideal for monitoring average call answering or wait times, as well as call stats and answering KPIs for company call queues, ring groups and auto attendants. This feature is ideal for making sure that clients or customers are not waiting too long before a call is answered and that there aren't any bottlenecks or congestion across the voice platform. (see below for sample wallboard screenshot):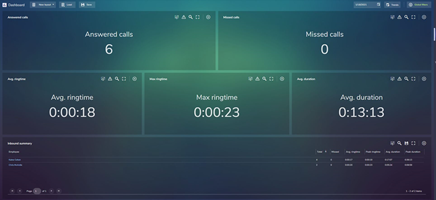 So, in a nutshell, Circle Cloud's Call Reporting solution offers…
Fully configurable reporting platform for MS Teams Phone System
Options for user access
Apply filters to ensure only relevant data is displayed
Select date range to monitor usage trends over a period of time
User defined dashboard
Platform can be displayed on wall boards as a simple call centre setup
Displays in and outgoing calls at user, company and department level
KPI's can added to reports to track call stats and trends
Display multiple agents' side by side to compare stats
Role based access and admin provision
Drill through from summary pages to detailed information
Report export in a variety of file types
Reports can be scheduled for ease of access
MS365 Single Sign on and Conditional access compatible
What Next
If you'd like to include Call Reporting and/or Call Recording into your Microsoft Teams Voice solution, Circle Cloud have made it straightforward. We've inluded them in our easy to understand Managed Service plans. Click Here to see our plans.